Write your own Labs Story.
Book now.
Define, articulate and solve your biggest people challenge.
Let's start the conversation.
Once upon a time...
This is how the story typically goes:
You were struggling to align on your company purpose.
You were tearing your hair out dealing with ineffective and inefficient recruitment processes.
You were worried that you weren't set-up for success.
You needed help to attract, recruit and retain the right people.
And then you came to our Lab. And found the answers you were looking for.
The End.
You might not be sure where to begin.
But once you get talking, the ideas will start to flow and the solutions will become clear.
BPS Labs are collaborative sessions, completely tailored to your organisation and designed to help YOU articulate the key issues you're facing.
Alongside our impartial team of experts, you'll finally have the time and space to hone in on your biggest people challenge.
Getting busy execs in a room (even a virtual one) can sound like an insurmountable challenge. "Why would we give up our precious time for this?"
We promise you it'll be worth it.
How Can We Help?
Our Labs focus on the four areas that are most likely to hinder your ability to attract, recruit and retain the right people.
Each Lab is designed to hone in on specific problems and produce real outcomes.
Your Labs Stories
1. Channelling strong leadership
In many ways this is a story about strong leadership, vulnerability and the ability to spot your capability blind spots.
It involves a fast-growing education and training provider with a clear purpose – to change lives.
The Group was making rapid acquisitions of related but disparate business units.
Each with their own culture. Each with their own identity. Each with their own way of doing business.
And each with their own hiring challenges.
Our attendees knew they had to pull the whole thing together and establish a clearer (Group) identity. One that – as much of their work is vocational - focussed on mindset, as much as skills.
Scaling can be complicated. You want to move fast and be scrappy but process gets left behind.
And establishing best recruitment practice isn't always top of the agenda when you're trying to please investors and effectively go from 'scale to sale'.
Our role in this?
In the first instance, to sit back and listen.
Before playing back what we'd heard. Which essentially relied on us channelling the strength of leadership and purpose we'd encountered to create a differentiator in the marketplace.
We laid down the foundations for a new identity. One that would leverage the collective power of the Group, while affording units and teams the autonomy to interpret this in their own way.
Design meets creativity, if you will.
And the recruitment?
Our partner now has established processes and is using best practice that will help them attract, recruit and retain the right people.
Assisted interviews, recruitment and bias training, quality control, measurement, and all the previously missing hallmarks of a mature function.
Ensuring the company in question can get on with growth and doing what it does best – changing lives.
2. How to build, grow and mature
How do you raise ambitions and go from founder-led to truly empowered?
That was the big question raised when we spoke to a US-based SaaS business that supplies key bid information to the construction industry.
They visited our (virtual) Lab with a desire to build and grow.
Of course, the answer involves a lot of moving parts.
A charismatic founder had carried out a strategic and measured growth plan that had put their company on the map.
But they're no longer content with being the scrappy small guy.
They have ambitions to not only match the competition, they want to beat it.
However, while they'd focussed on building a great product, the equally enticing founder story had got lost along the way.
Meanwhile, HR and recruitment was the sole responsibility of one individual and the well was running dry when it came to finding great candidates.
Fresh perspectives and greater diversity were needed across the organisation. As well as some experienced support.
The exec team had sight of the problem. But they weren't sure how to navigate the next chapter in the company's growth story.
How they'd always worked had always got results. However, the tipping point had been reached.
When we presented this narrative back, we threw in some creative magic too.
The brand wasn't screaming SaaS. But we didn't wish to lose the connection to the company's roots. So our brand work complimented, rather than replaced what already existed.
And tied together a messaging matrix that finally highlighted the company's tech credentials and appetite to take down its competitors.
In recruitment circles, this company had stolen a march by offering remote work since the late 90s. This was something we were keen to take advantage of and further promote in order to build a richer talent community.
And that's just for starters. We're now looking at hiring the senior team which'll really give this company wings. And result in true team empowerment.
3. Engaging a workforce.
It's no secret that certain industries have had it tougher than others throughout the pandemic.
The aviation sector certainly falls into that category.
Battered, bruised and haemorrhaging good people.
So, when one of Europe's biggest low-cost airlines told us they had a huge issue with engagement, we knew we had a big challenge ahead.
However, their Labs Story isn't simply a tale about winning hearts and minds.
Something was missing. Something really important – a cultural and behavioural code.
Employees had a degree of autonomy but lacked a strong attachment to the business. In some cases, the directional framework was so loose, people weren't sure 'how to behave'.
Or to put it another way, how they should work together to solve problems and tackle challenges.
This was having a critical impact. Perceptions of working for the business seemed to differ by role, employee, experience and by culture. Employees felt displaced, and when they started to feel unhappy, they'd leave.
Maintaining engagement was hard enough when all flights were grounded.
Throughout the process, we came to the table with solutions.
For starters, we helped the airline establish a golden thread – to bolster its employer brand and bring some localised presence.
Developing a core value proposition and messaging would also serve to foster internal engagement and create a unifying theme that an embattled workforce could rally around.
Another key side benefit of this work was the impact it would have on enhancing customer experience.
Competitors had far more developed identities and advocacy.
And people were interacting with the competition in a positive way. Not so much with the airline in question.
As for engagement, we handed over a framework that would help our partners identify pockets of discontent and execute actionable plans for tackling the root cause.
What
People
Say
"The Labs workshop really helped us to 'unfreeze' our current thinking. The session created the momentum and energy required to think more creatively about our values and purpose. The BPS team drove the creative process and the Lab was well worth the time spent."
- Rutger Helbing, CEO @ Devro

"From the first contact I had with BPS, I knew this was a great opportunity. The Lab has really helped myself and team re-look at certain areas of our strategy and given us confidence in others. I highly recommend to any HR leader wanting to get a fresh perspective on their plans."
- Louise Clough, Director of People @ Learning Curve Group

"It's been really refreshing to have a session like this with a recruitment partner."
- Ian Green, Managing Director @ Progress Workforce Development

"Wow. BPS really hit the nail on the head and the creative and messaging produced felt like us, not you. Our people will buy into this and feel the passion."
- Head of Flight Operations @ Leading European low-cost airline
What to expect
The best ideas are formed in relaxed surroundings with trusted partners. People Labs aren't stuffy boardroom meetings. They're fresh, fun and engaging. After meeting with us, we guarantee you'll leave with:
Creative recruitment marketing ideas
An understanding of how you stack up against your competitors.
The knowledge needed to move forward as an employer of choice.
The confidence that you have the tools in place to alleviate risk.
A robust strategy for growth.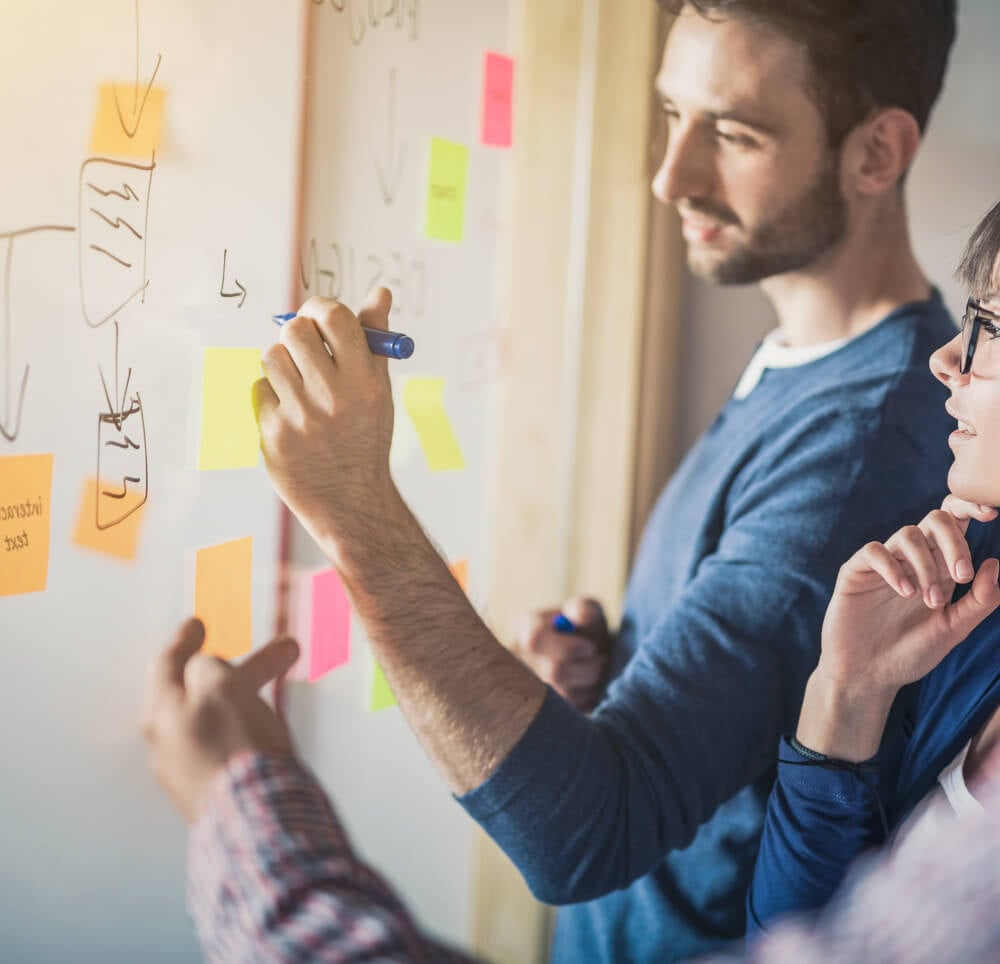 You're probably wondering what's in it for us?
We'd be lying if we didn't tell you that our hope is to become your long-term, strategic recruitment partner.
But we're also comfortable with you walking away as a life-long friend. There's no obligation here, just the opportunity to get to know each other.
All we ask from you is your full commitment. For this to work effectively, we need you to highlight a problem you are facing and commit to 2-3 hours with our experts.
An Intro to Labs
Find out more about our Labs and what to expect.
The process:
Step 1: An initial call to outline your challenge.
Step 2: We get creative and create a structure for our session.
Step 3: We invite you to our Lab to collaborate.
Step 4: We Playback the results of our session and provide you with a roadmap for success.
Limited availability - book now!
Book your Lab
Looking to solve your most pressing people challenge?
Fill in the form to get started on the solution.